NB: I am in no way a commercial partner of Moo. The purpose of the post is to share my opinion about their product.
As a freelancer, I recently needed to renew my stock of business cards and update them so that they fit my new visual identity.
Facing the huge available offer on the web and after having visited several sites gathering online printers on the test bench, I chose Moo. Thanks to a very effective marketing and a welcoming and "jovial" site, Moo stands out (way to speak) as they're specialized in business cards but they also offer stickers, postcards and some accessories …
Moo products & services
Moo offer 3 main formats / types of cards: classic (square or round corners), MiniCards (half width) and "De Luxe".
An interesting feature is you can use a different design for each back side (pictures, photos, anything…). I personally used a unique visual for all my cards.
Before ordering, I asked for a free sample of 10 cards to be sure of the quality. Note that they indicate that the sample contains a "De Luxe" card but this was not the case for me, I received 10 classic cards with square corners.
I will pass on the "online" experience of the order, just to mention that the site is pretty great and everything is done so that we do not crash in our choices. In short, a good user/consumer experience.
Finally comes what we're interested in, the postman rings…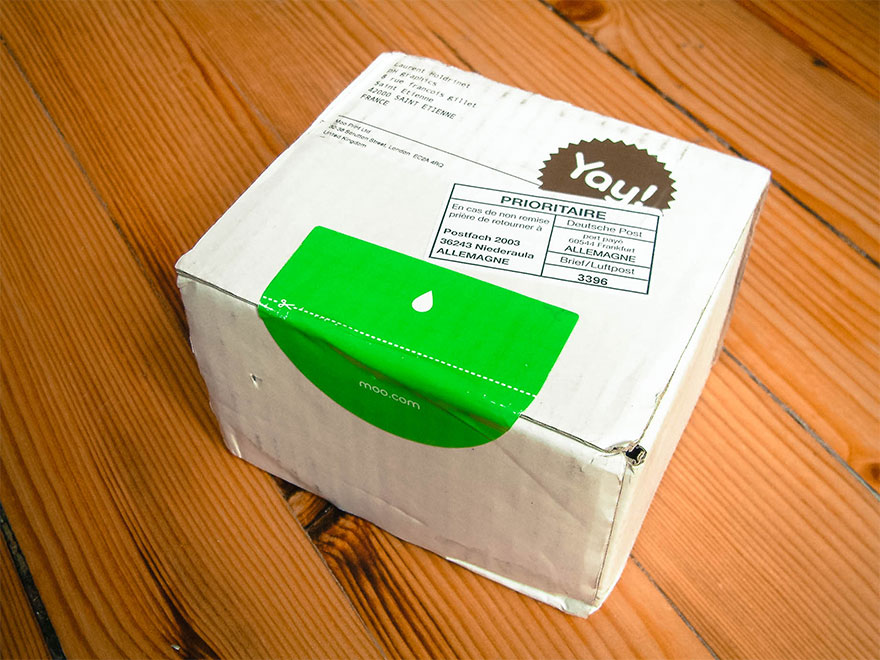 The small parcel (I ordered only 50 cards) arrived from Germany exactly on the day announced by Moo (roughly 10-12 working days for an expedition at the normal price ie 5.70€).
Like their well-targeted marketing, their packaging is logically all equally well-cared for and worked. It looks like Russian dolls: a box in a box in a box. They call their cards "De Luxe" and the packaging follows. The cards are stored in a box wrapped with a violet ribbon and stamped with their seal. One wonders if we will find a jewel (or a candy box) inside.
Unfortunately the Wow effect (for those who love boxes) vanishes quickly since the box was already torn on one side. Not bad, I had not ordered a box but business cards.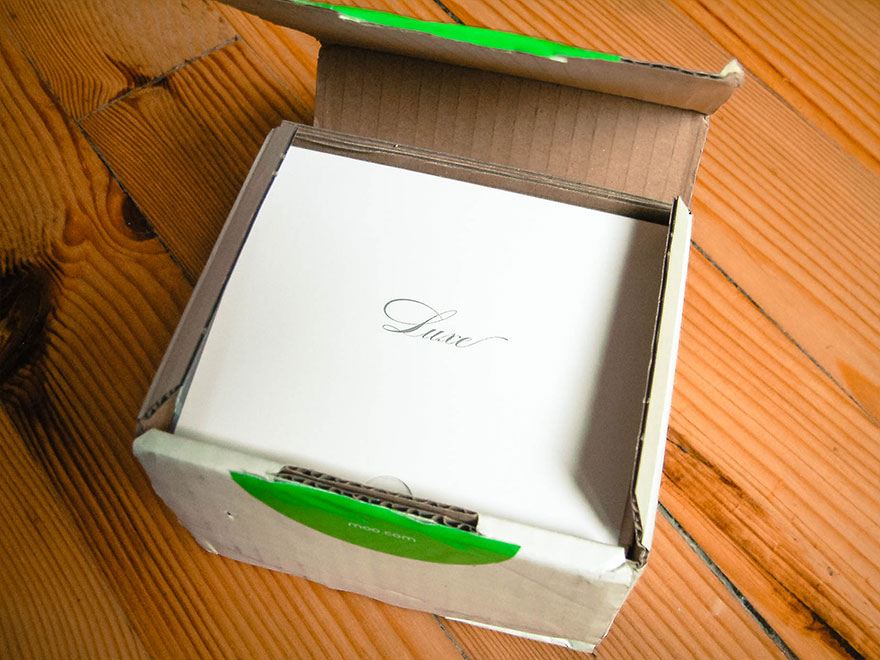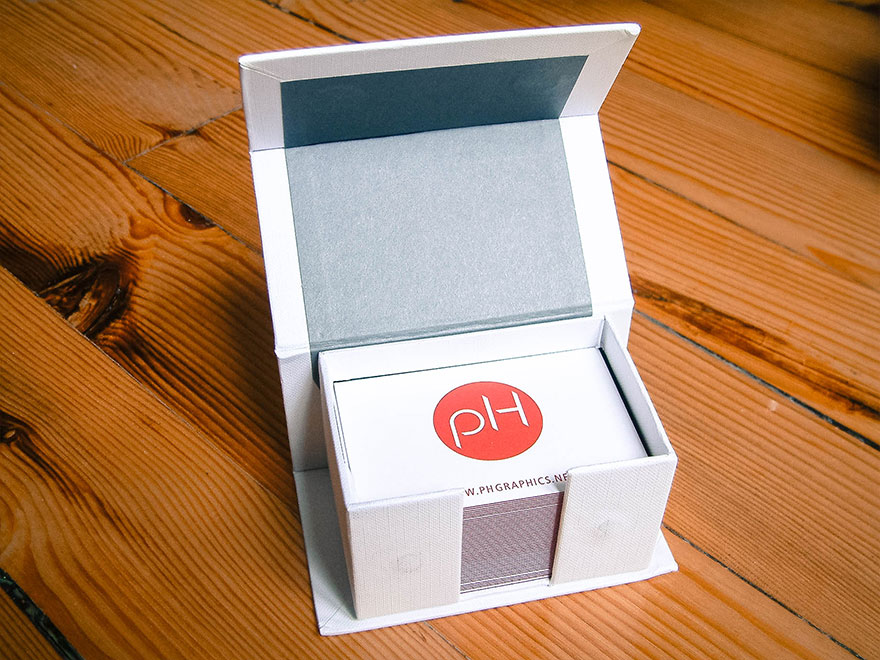 Business cards
Let's get to the essential and even single object of that order, the business cards.
The first impression is that they are high quality cards. The finishing of the paper is raw, no lamination or varnish, the average grain and the texture of the paper are clearly visible and give "relief" to the cards. The plain colors emerge even better. However, I was expecting an even more "fibrous" and less smooth texture.
The "De Luxe" cards differ from the "Classic" by their quadruple thickness (4 layers of compressed paper) which gives thick cards of almost one millimeter and an unusual weight for cards.
Other bonus, the middle 2 layers of paper can be colored black, white, blue or red (or left natural color: white paper).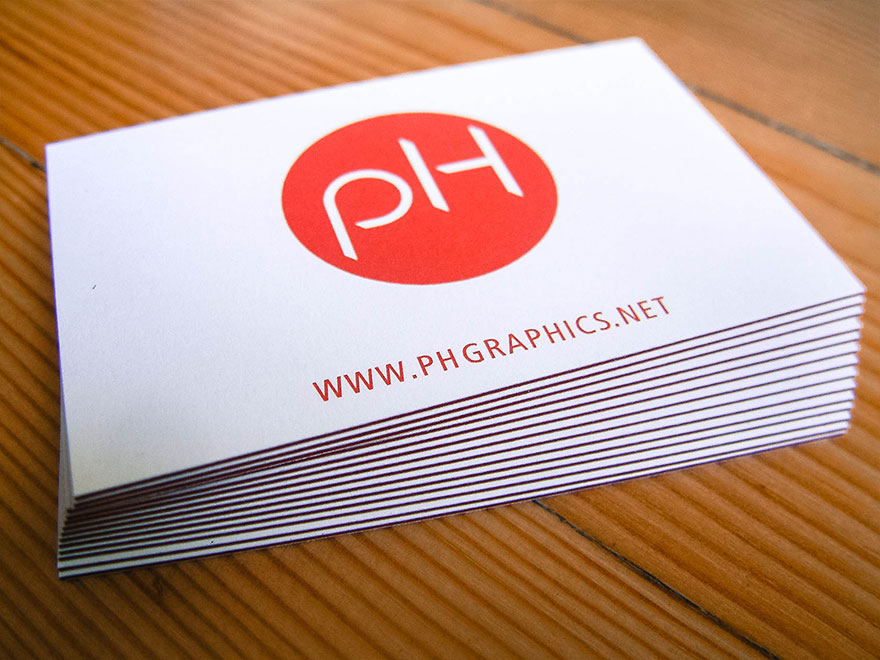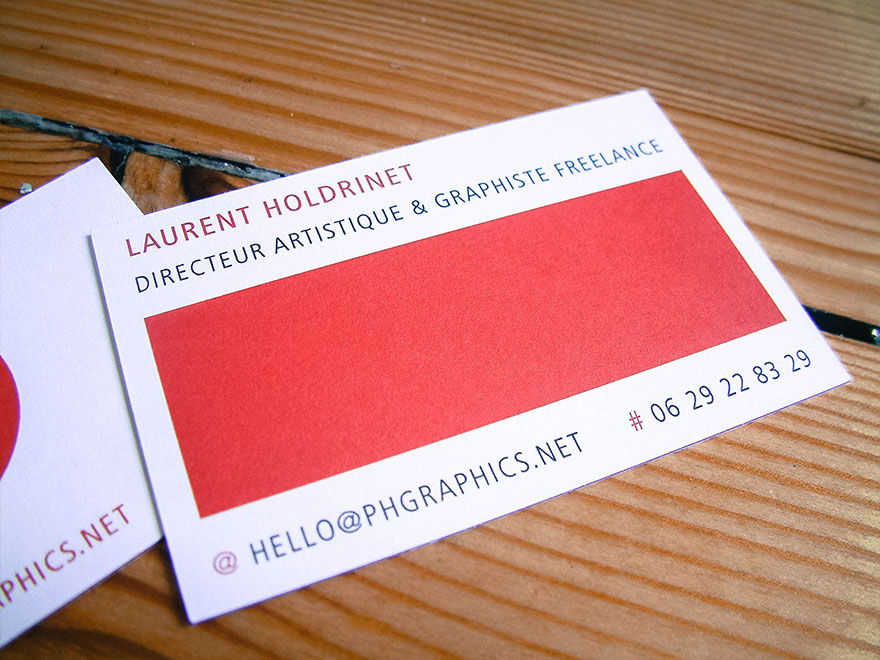 Conclusion
The business cards "De Luxe" are a good product but, to me, their price is not really justified (almost twice the price of the classic cards) despite their quadruple thickness and the "coloring" of their slice.
Moreover, their price is partly inflated because of their huge packaging, dispensable and fragile (so quickly disposable).
Note that all Moo products are packaged in a neat and colorful packaging (not exclusive to Moo of course) and it is an integral part of their marketing / branding.
Personally, I would have contented cards in a blister cardboard (and a few euros less). Maybe one day they will offer the option with or without packaging (I doubt it strongly) to make everyone happy (box lovers and others).
For my next business cards, I will probably opt for ordinary cards. Maybe with Moo again. I liked the sample of "classical" cards and the possibility of printing different designs on the back sides is interesting.
Get 10% discount on your first order!
Like most e-commerce websites, following your order, Moo send you a referral link. So if you want to benefit of 20% on your 1st order, follow that link: 20% discount on your first order. For my part I will earn reward points (MOOLahs).